Quality and System Certificate
QUALITY:
Boğaz Endüstri Madencilik Ltd. since its inception, containing advanced technological facilities and laboratories around the world in its own structure and it is only domestic cement enterprise in Cyprus producing quality and reliable products according to related standards. Taking into account the needs and expectations of our customers' we are providing products to the market accordance with local and international standards and continuity have been going for many years.
We are carrying out physical, chemical and mechanical analysis all day on raw materials and latest product cement. Our laboratories equipped with the latest technology and knowledgeable, experienced employees. In this way, quality is closely monitored and if necessary, the process is timely intervention.
All our products produce in accordance with TS EN 197-1 and the relevant standards and  quality checked and approved each year by the TSE on a regular basis.
Boğaz Endüstri ve Madencilik Ltd. has a Quality Management System document as a ISO 9001 and Environmental Management System as a ISO 14001.
SYSTEM DOCUMENTS:
TS EN ISO 9001:2015 Quality Management System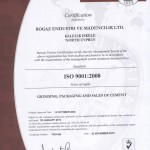 TS EN ISO 14001:2015 Environmental Management System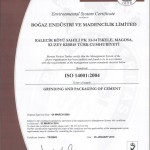 Conformity Certificate of Turkish Standards